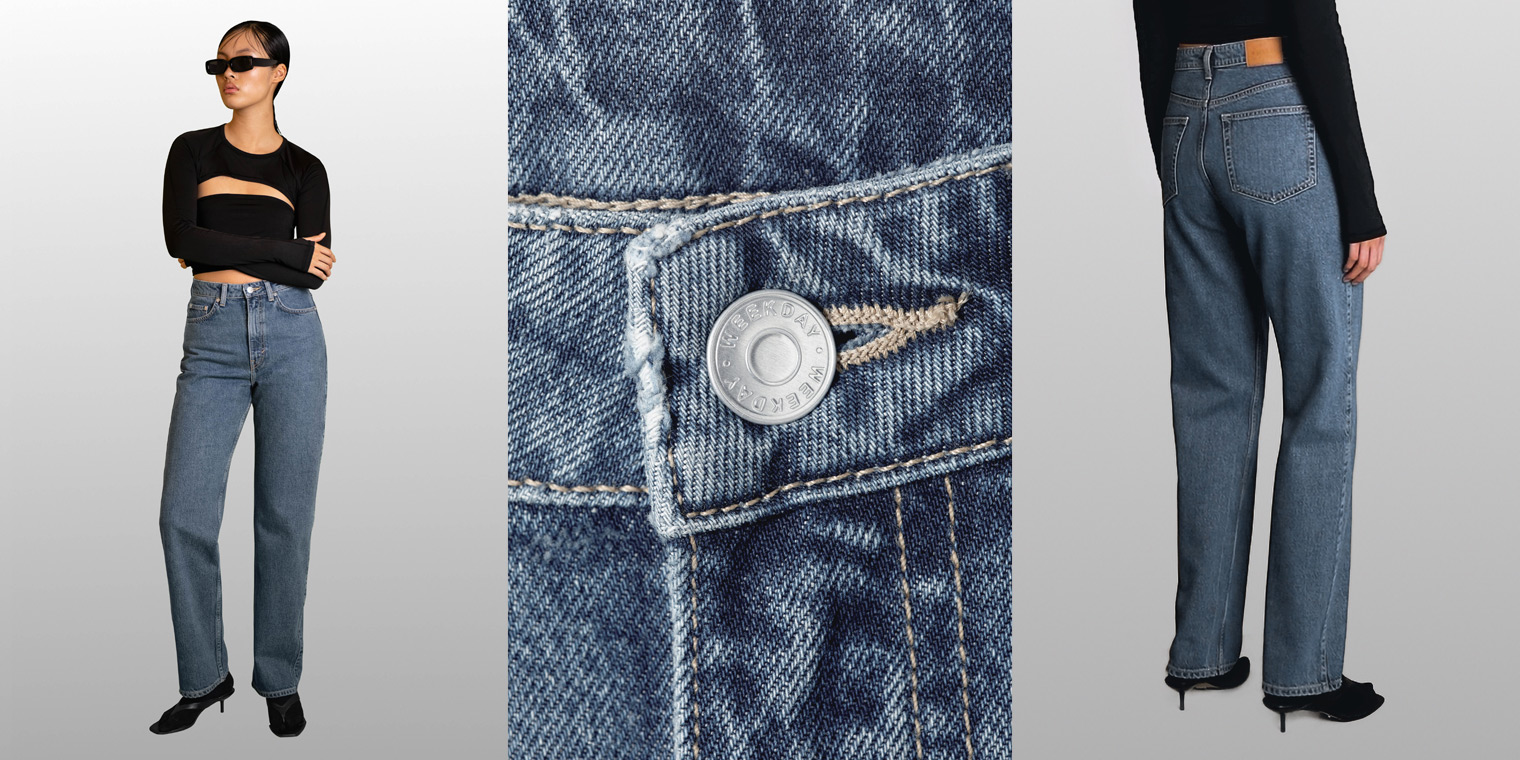 Press release
February 3, 2021
Planet-conscious consumers can finally purchase clothing made with Infinited Fiber Company's unique regenerated textile fiber Infinna™ as limited-edition jeans designed by Weekday, a part of the H&M Group, hit the online shop www.weekday.com tomorrow, Thursday.
"I can't tell you how excited we are! The question we get asked most is: 'When can I buy something made with Infinna?' It feels great to be able to say: 'Now!'," says Infinited Fiber Company's Key Account Director Kirsi Terho.
"Lots of different garments have been created with Infinna in the past to demonstrate how our regenerated textile fiber works in different fabric applications from T-shirts, to hoodies to dress shirts to jeans. But these are the first garments that are available for anyone out there to purchase. And that's exciting!" Terho adds.
The jeans come in Weekday's favorite fit for women, Rowe. Just like all the other Rowe jeans, they are priced at 500 Swedish krona (around 50 euros), underlining the philosophy that sustainable shouldn't be exclusive and must become mainstream for maximum impact.
"Weekday is taking steps towards fully implementing circular design practices," says Weekday Head of Design Anna Norling. "We've previously teamed up with actor Maisie Williams and co-designed a custom two-piece outfit made from Infinna™, Infinited Fiber's revolutionary textile fiber that transforms textile waste into a high quality and sustainable circular alternative to cotton. This time around, we wanted to scale up this concept and give a wider audience the chance to choose circular design and created a limited edition of our most popular women's jeans fit Rowe, using a 50/50 blend of Infinna™ and organic cotton in a denim weave."
The 64 pairs of jeans for sale in Weekday's online shop from February 4 are made with 50% organic cotton, and 50% Infinna, created out of 100% reborn textile waste. The scientific name for Infinna is cellulose carbamate fiber.
The Weekday release is a continuation of years of collaboration between Infinited Fiber Company and H&M Group. In the 2019 collaboration between Weekday and Maisie Williams, the unique showcase denim outfit was made with 100% Infinna, created 100% from regenerated textile waste.
"It brings me great pleasure to see Infinited Fiber Company continuing their relationship with H&M Group. The Infinna fiber is trailblazing, and I'm delighted more people are going to be able to wear it. It's the future of fashion!" says Williams.
Infinna is a unique new textile fiber that has the soft and natural look and feel of cotton and is created out of 100% textile waste – think old clothes that would otherwise end up as pollution in landfills or be burned, because that's what happens to most discarded textiles around the world.
Infinna is biodegradable and clothes made with it can be recycled again in the same process together with other textile waste. It's created out of cellulose, the building block of all plants. Any non-cellulosic materials in the raw material – like polyester, elastane and dyes – are removed in Infinited Fiber Company's process. While the Infinna in Weekday's jeans is made from textile waste, Infinited Fiber Company's technology can also use other cellulose-rich waste streams, like used cardboard, paper, or wheat or rice straw, as its raw material.
Dig deeper
FOR MORE INFORMATION AND MEDIA ENQUIRIES:
Laura Vinha, PR & Communication Manager, Infinited Fiber Company, laura.vinha@infinitedfiber.com  
Read all kinds of good news from Infinited Fiber Company on our news page