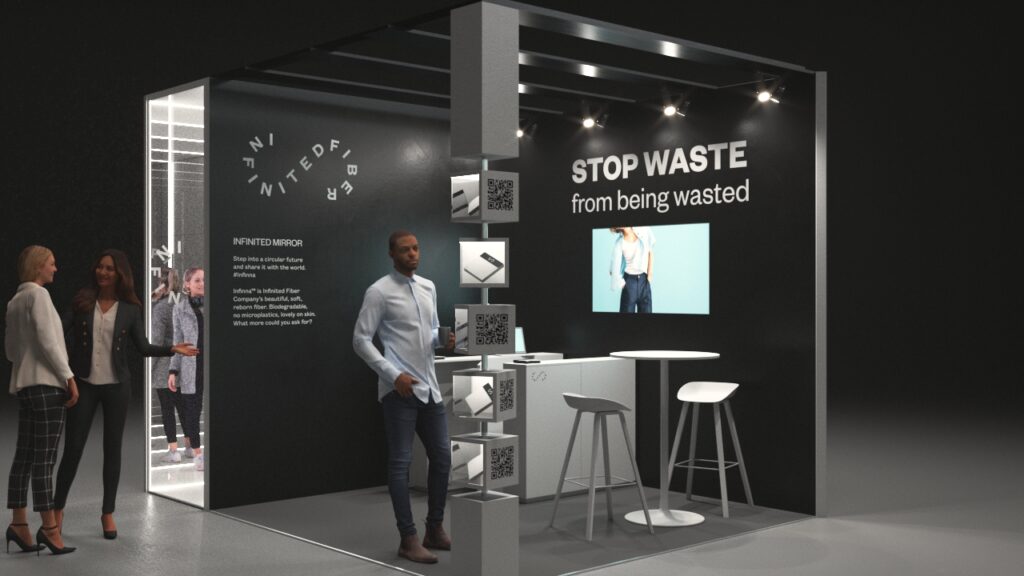 The nonwovens industry is ready for a more sustainable future: one that's not reliant on virgin resources, where microplastic emissions are eliminated, and where disposable single-use items are biodegradable. At Infinited Fiber Company we are on a mission to use our fiber regeneration innovation to make this future a reality with our Infinna™ fiber, which looks and feels soft and natural like cotton – and is currently created 100% out of textile waste.
That's why we're headed to INDEX™ 20 (Tuesday 19th – Friday 22nd October). We'll be showcasing the potential of Infinna™ for the massive nonwovens industry as a regenerated material alternative to conventional fibers.
Made of cellulose, Infinna™ is a biodegradable fiber that contains no microplastics. Its unique creation process also gives it naturally occurring antimicrobial properties, and testing shows it doesn't irritate or sensitize skin. When made with Infinna™, nonwovens start their journey from a great place: capturing the value of existing resources that would otherwise be landfilled or incinerated, and lessening the burden on the Earth's precious virgin resources.
Infinna™ has already been widely endorsed by the fashion industry, and some nonwovens producers have already put it to the test with promising results.
The fiber has been found to be particularly well-suited to soft-hygiene and consumer products. As each nonwoven application is unique, we're looking forward to working with more producers to test Infinna™ in an increasing number of applications.
If you're at INDEX, learn more about how Infinited Fiber Company and Infinna™ can help give the nonwovens industry a fresh start at Stand 4182, and check out our co-founder and CEO Petri Alava's presentation on Tuesday, October 19, at 11:30-11:50 a.m. in Room R (Hall 3) (Exhibitor Product Presentations) – or come and say hi at our virtual sand.
Dig deeper
Visit our nonwovens page to learn more.
Get the full lowdown on INDEX™ 20.
Say hi at our virtual exhibitors platform.
Read all kinds of good news from Infinited Fiber Company on our news page.