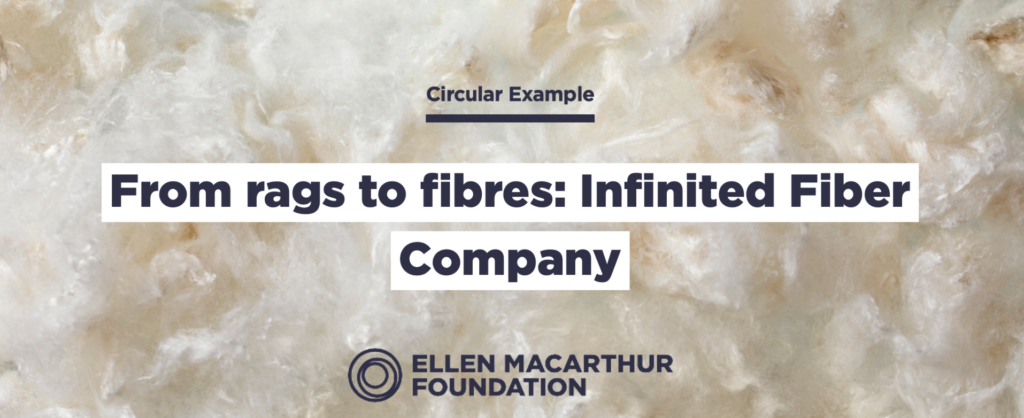 We're delighted to share that UK-based circular economy charity, the Ellen MacArthur Foundation, has chosen to feature Infinited Fiber Company in its online Biodiversity circular examples library.
Infinited Fiber Company is included in the fashion examples of the Ellen MacArthur Foundation's library thanks to our innovation and commitment to a circular textile economy. "As our technology diverts textile waste from landfills and turns it into new fibers, it reduces the impacts on biodiversity associated with polluting disposal methods and resource-intensive virgin fiber production," the Foundation says, explaining the biodiversity benefits of our technology.
"By keeping existing fibres in use, they displace the need for more land cultivation, leaving room for biodiversity," the Foundation writes.
The online library supports the Foundation's new report 'The Nature Imperative: How the circular economy can help tackle biodiversity loss', which highlights how the circular economy can play a fundamental role in helping to halt and reverse global biodiversity loss. The study explores how the circular economy offers a framework for transformation and redesigning the economy to help shape a nature-positive future.
"Biodiversity loss is widely recognised as a systemic risk that threatens not only our prosperity but our very future as a species. To halt and reverse this loss, a transformative change to its main underlying  cause – our extractive, wasteful and polluting economy – is urgently needed. The circular economy is  being rapidly recognised as a powerful framework to achieve this seismic shift as it creates value in ways that rebuild biodiversity and provide other society-wide benefits." The Nature Imperative: How the circular economy can help tackle biodiversity loss
The Ellen MacArthur Foundation is an international charity that develops and promotes the circular economy in order to tackle some of the biggest challenges of our time, such as climate change, biodiversity loss, waste, and pollution. It works with a network of private and public sector decision-makers, as well as academia, to build capacity, explore collaborative opportunities, and design and develop circular economy initiatives and solutions. Driven by design, a circular economy eliminates waste and pollution, circulates products and materials, and regenerates natural systems, to create resilience and prosperity for business, the environment, and society.
"More than 90% of biodiversity loss is due to the extraction and processing of natural resources – a result of today's degrading, wasteful, and polluting linear economy" ellenmacarthurfoundation.org
Dig deeper
Read the Ellen MacArthur Foundation's report The Nature Imperative: How the circular economy can help tackle biodiversity loss.
Visit the Ellen MacArthur Foundation website.
View the Infinited Fiber Company case study and explore the circular examples library.
Read all kinds of good news from Infinited Fiber Company on our news page.