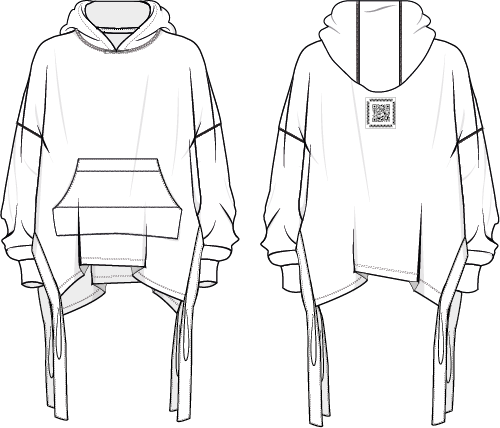 Infinited Fiber Company teamed up with one of Europe's leading online platforms for fashion and lifestyle, Zalando, to create a showpiece prototype garment designed with a key focus on circularity.
The unisex, modular sweatshirt was made with our InfinnaTM textile fiber, created 100% out of post-consumer textile waste at our pilot facilities in Finland.
This unique product was on display at the Design Museum in London, England, from November 25th to December 10th 2021. Through a unique QR code, visitors gained access to a video showing the life cycle of the sweatshirt and information on where the item was produced, how to care for it, and a link to trade-in.
Demonstrating how waste can be eliminated was at the heart of the project. In addition to using fabric made with Infinna™, the prototype sweatshirt used a low-waste pattern, with 97% of the fabric going into the actual garment. It was designed using 3D technology – eliminating the need for physical sampling.
This collaboration is a great example of how brands and e-commerce are working together with textile technology companies to innovate within the design and production process for a more sustainable and circular fashion industry.
Infinited Fiber Company Key Account Director Kirsi Terho said: "It was exciting to see our collaboration with Zalando brought to life through this sweatshirt. This was a fantastic example of people working together to make the future of fashion more sustainable and circular. The display at the Design Museum gave people a chance to see that a garment made from waste can be of a high quality, and a view into the ambitions of the industry and the possibilities available to us."
Zalando Head of Circularity Laura Coppen said: "We want to be part of the solution for a more circular fashion industry by demonstrating action. Alongside our investment in Infinited Fiber Company we wanted to showcase the material, combining several other strategies, like the digital product passport, low waste pattern design and engaging communication towards customers. Being part of the Waste Age exhibition at the Design Museum was a natural place to tell this story "
The display and creation of the garment followed Zalando's announcement last September that it was investing in Infinited Fiber Company "to be part of the solution for a more sustainable fashion industry".
Zalando's investment is supporting our preparations to build the first commercial-scale Infinna™ factory using household textile waste as raw material. The factory is expected to be up and running in 2024 to meet the growing demand for Infinna™ from global fashion brands working to make textile circularity an everyday reality.
Dig deeper
Learn more about Zalando's redeZIGN for Circularity collection.
Visit the Design Museum website.
Find out more about the collection from the Museum.
Read all kinds of good news from Infinited Fiber Company on our news page, including Zalando Invests in Infinited Fiber Company.